Testimonials
Our new range of Needle Tubes make their mark at home and abroad with spectacular sport for Atlantic salmon, steelhead and sea trout ... more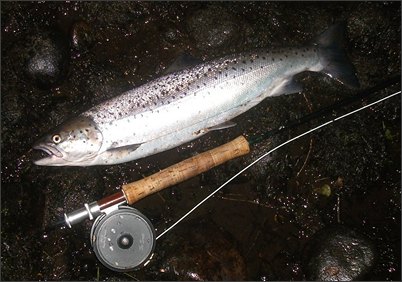 One of eight Spey sea trout, averaging around 2 1/2 pounds, taken on a 25mm black and silver needle tube in two hours fishing on the Grantown Association water in the early hours of Monday, June 23rd, 2014.
Customer Comments
Below is a selection of the many messages received from customers who have bought flies and needle tubes from Grays of Kilsyth.
"Thanks goods arrived on time sat am . I am extremely grateful for excellent service/product."
"Thank you so much for your quick action and response."
"The flies flew in yesterday in perfect condition.
Thanks. PS: Love your website."
"Flies arrived to day very impressed!!! Thank you...."
"Received tubes Wednesday morning, that's what I call service, cheers! I am looking forward to trying them out"
"I was on the Spey 2 weeks ago and had some good sea trout (best 5.5 lbs) on your needle tubes. I also had a 7lb salmon on one at dusk."
"Remarkably, the flies arrived on Saturday morning. They are excellent, very impressive."
"These are lovely tied flies and I like the fact you ship them with double not treble hooks and the first I have used of the needle tubes and won't be the last. I landed and returned 7 fish on the first day I used your splendid temple dog needle tubes and notice they swim very well which is key when tempting salmon to take any fly. These should be in every salmon anglers box, of that I'm sure!
"Many thanks for the lovely picture, it's arrived today. I know that the recipient of this will really appreciate it."
"Thank you so very much for your swift handling of my request........ Again, thank you for the outstanding service."
"Everything received next day. Fantastic service once again."
"The flies have arrived and look very good on my wall. Thank you."
"Just a line to let you know my picture arrived today safe & sound. I am absolutely delighted with the picture and it will take pride of place. I look forward to others in the future and I won't hesitate to recommend your work. Once again thanks."
"I am just writing to let you know that the Salmon Flies arrived safely first thing yesterday morning...... I am certain my father will love them. Thank you for your speedy service and lovely product."
"I have received my order for the trout and sea trout flies this morning. Thank you for the prompt service."
"I have now received the flies and I am very pleased with them.
Many thanks."
"I have received the Loch Trout Fly Collection in Wheatley Box - it is very well done! Many thanks."
"The testimonials on your website led me to think using your services would be good. I have not been disappointed. On the contrary, you really have surpassed my expectations. You have interpreted my instructions to the letter, and have really made my ideas come to life. The flies are fantastic, the framing is excellent, and the writing is very tastefully done. I cannot fault any of it. The attention to detail and the quality of the work is a credit to you. On top of that, you have been extremely prompt in every way, and very helpful with information throughout."
"just to say thanks, the box of trout flies you posted to me yesterday already arrived, fantastic service, delighted."
"Just to let you know that the flies arrived safely today and that I'm very pleased with them. Thanks for your help and great service."
"Many thanks for prompt service. Flies received safely.
Husband delighted with Birthday present."
"Thanks again for the flies.... they are beautiful (and they work) well, I'm off fishing now... thanks again and best regards"
"Thank you for your note. I received the flies in the mail yesterday. They're beautiful."
"Thank you for the order which arrived (as promised) this morning. I would like to thank you for the quality of service which you have provided and to let you know that I shall certainly be using you again, my misfortune for not finding you sooner as I have been let down badly by my original supplier, a mistake I will not be making again"
"I have just received my 40 Sea trout flies, that I ordered from you on Friday the 18th this morning (Monday 21st), and may I say that I am very happy with the prompt service, and I am very very happy with the quality of these flies. It is without doubt that I have to say, if and when I require some more flies, I shall definitely be contacting yourselves. Once again may I say thanks."
"Your flies, which are splendid, did indeed arrive yesterday! Thank you very much."
"Got out with the fly rod on the weekend. used one of the smaller 20mm tubes with a very sparse Alexandra variant and ended up catching my bag limit in 30 minutes flat! A very short night's fishing! If that is any indication of how well these needle tubes fish it should be a good season!....."
"Many thanks for the tubes which arrived this morning. They look very nice indeed I'm hoping to tie some up and give them a swim in the next few weeks."
"Needle tubes working well down here in Devon"
"Very pleased with the needle tubes I bought; they will probably revolutionize my fly box!"
" ... I saw him before he took, and he came off the lie and took it straight away with absolutely no hesitation! Thanks again for coming up with this product. These really are the best tubes I've used."
"Many thanks for your prompt response. The flies arrived in this morning's post - fantastic service!"
"Thank you for the flies, they arrived yesterday and look bloody gorgeous - excellent service."
"I wanted to take the time to thank you for the speedy delivery of the Sewin needle tube flies! Ordered on Friday and with me on Monday, what a fantastic turn around. The quality of these flies is second to none. I would thoroughly recommend your business to fellow anglers."
"Hi John. Thanks. I've been using your tubes on steelhead flies for several years. They are the absolute best!"
"The salmon flies arrived this morning - many thanks for the prompt service. The quality looks great."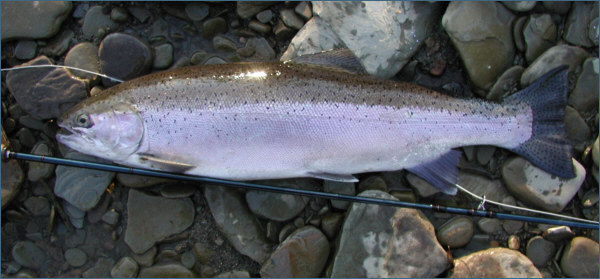 8 pound steelhead taken by Bob Schoeller from Lake Erie on a Needle Tube Fly
"Just to let you know, I've had my most productive sewin season ever, with ten days still to go, thanks mainly to the needle flies I have been using tied on your needle tubes. Fishing with flies that give you a lot of confidence is a bonus, many thanks for the raw materials."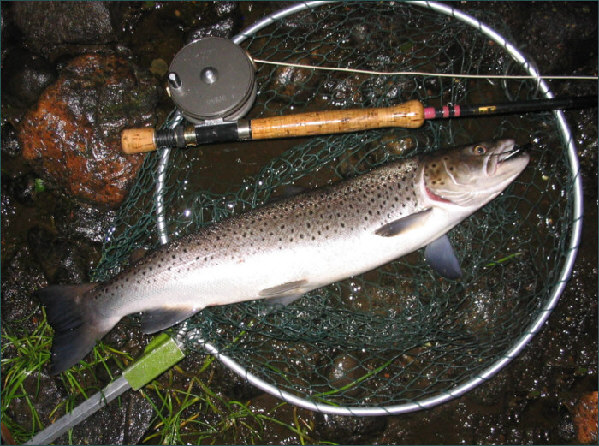 One of six Spey sea trout taken on a needle tube fly in four hours fishing
"That's the tube fly tool with me already, thanks for the quick service, will definitely be using you more often going forward."

"I think this is my third or fourth order or so and I just wanted to let you know that I am having consistent success with my salmon needle tube flies in Norway, even when nobody else around seems to catch. The size and weight of the tubes is just perfect for slender temple dog-styled tube flies that immediately break through the surface when hitting the water and fish at the right depth whilst maintaining great mobility. I am fishing no other tubes any more."
If you have any queries on products, prices etc. please contact us by e-mail at: