Scottish Salmon Recipes
A selection of salmon recipes from top Scottish chef Nick Nairn
New Salmon Recipe Website
To view a new website presenting a varied selection of healthy and tasty salmon recipes, clearly explained and simply cooked using the best of fresh ingredients, see:
First, catch your salmon.....
Wild Scottish salmon, fresh from sea or river, will invariably be superior to the farmed variety. Wild Scottish salmon, caught in commercial nets, is now a scarce commodity commanding a high market price. Similarly, if our dietary intake of salmon depended on our skill with rod and line, many of us, myself included, might be sadly under-nourished. Most of us will buy our salmon from the fishmonger or supermarket. Much of this salmon currently comes from fish farms.
Go wild for Salmon!
The following is an extract from "The Salmon Farm Monitor"
"As a special treat try wild Alaska salmon instead of farmed salmon. The Salmon Farm Protest Group do not advocate eating wild Scottish, English, Welsh or Irish salmon as these stocks are perilously close to extinction. However, there are sustainable supplies of wild Alaskan salmon. This is much tastier and healthier than farmed salmon, is affordable and is already sold fresh in supermarkets such as Sainsbury and M&S. Ask your supermarket for fresh wild salmon or try canned wild salmon. This contains less fat and less contaminants than farmed salmon.
On Salmon Farming
From about the mid eighties, declining stocks of wild salmon encouraged the growth of the salmon farming industry along the Scottish west coast. Welcome though the new fish farms were as a source of rural employment, lack of planning and control in their location and operation had dramatic environmental consequences, not least the rapid decline of our fragile sea trout stocks. It would appear, however, that the salmon farms are here to stay. It is to be hoped that stricter controls combined with improved techniques and a growing environmental awareness will halt and perhaps even reverse the decline.
Scottish Salmon Recipes
These salmon recipes and photographs have been reproduced from "Nick Nairn's Top 100 Salmon Recipes" with the permission of the author, Nick Nairn. Nick is one of Scotland's top chefs, well known for his regular appearances on BBC television. He also runs his own highly acclaimed restaurant and cookery school. Please visit Nick's website at http://www.nairns.co.uk
Nick's Salmon Recipes
Below are a few sample salmon recipes from Nick Nairn's excellent book:
Peppered salmon with whisky cream sauce
Spicy salmon broth
Lemon butter baked salmon, tagliatelle and parsley
Seared salmon with hot potato and tomato salad
Salmon Recipe No 1
Peppered Salmon with Whisky Cream Sauce
Nick Nairn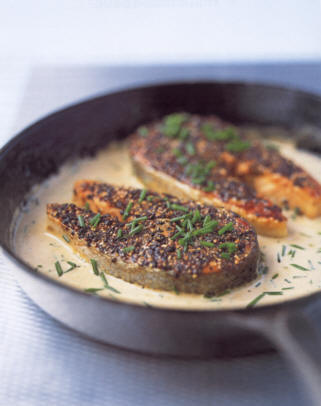 Preparation time 20 minutes
serves 2
1 tablespoon black peppercorns, crushed
½ tablespoon white peppercorns, crushed
2 x 175g (6oz) salmon steaks or darnes( see page 10-12)
1 level teaspoon Dijon mustard
freshly ground sea salt
15g (½ oz ) butter
1 tablespoon whisky
150ml (¼ pint) double cream
1 tablespoon chopped fresh chives, plus extra to garnish
Unlike the other recipes in this section, this sauce is an integral part of the dish and is one of my favourite one-pan recipes. It has evolved from a peppered beef dish which I then adapted for chicken with great success, and it was only a matter of time before the curious cook in me tried it with salmon. The result? A very tasty dish indeed!
1 Mix together the crushed peppercorns. Smear the salmon steaks all over with the mustard and then press the peppercorns into the cut sides of the salmon - just enough to give it a nice thin coating. Season with salt.
2 Heat a frying pan until hot. Add the butter and, as soon as it starts to foam, lay in the salmon steaks. Reduce the heat to medium and fry the steaks for about 3 minutes on one side to brown them.
3 Turn up the heat, flip the steaks over, then splash in the whisky. Boil fast until the whisky has almost disappeared, then pour in the cream. Carefully scraping up any bits that are sticking to the bottom of the pan around the steaks, bring to a fast bubble.
4 Boil for 1 - 2 minutes until the sauce starts to thicken, then taste and season with more black pepper if necessary, and some salt. By this time the salmon should be just cooked - test with the tip of a knife; if it is still a wee bit pink, simmer over a low heat for a further minute. Stir in the chopped chives and serve immediately, garnished with the extra chives.
Copyright Nick Nairn 2002
Salmon Recipe No 2
Spicy Salmon Broth
Nick Nairn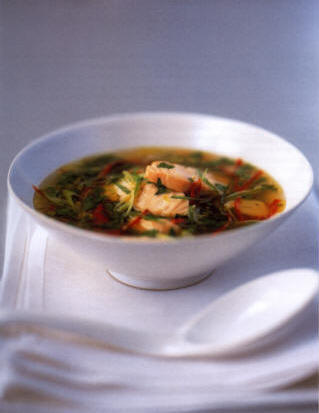 Preparation 20 minutes
Serves 4
1 tablespoon vegetable oil
25g (1oz) fresh root ginger, peeled and cut into matchsticks
2 large garlic cloves, peeled and sliced into slivers
1 large fresh red chilli, seeded and cut into matchsticks
1 whole bird's eye chilli
1 stem of lemongrass, chopped
1.2 litres (2 pints) chicken or vegetable stock
3 tablespoons Thai fish sauce (nam pla)
1 tablespoon light soy sauce ( preferably Kikkoman's)
juice of 1 lime
4 spring onions, finely shredded
175 - 225g (6 - 8 oz) salmon fillet, cut into medallions ( see page 10 -11)
3 tablespoons roughly chopped fresh coriander
freshly ground sea salt and freshly ground black pepper
I normally make this soup using a blend of fish stock and mussel juices; however, I know that most home cooks don't have ready access to that kind of kit, and so for this book I experimented using a fish stock cube - not great. I then tried my personal favourite, a Knorr chicken stock cube, and found that it made a really good soup, although perhaps not acceptable to "pescatarians" ( I know, it was a new one on me, too - it means fish - eating vegetarians!); alternatively you could use a vegetable stock cube. The base can be made in advance and freezes well. Add the salmon just prior to serving. Be careful not to overcook the salmon; it needs only a couple of minutes. You can check by breaking one of the pieces open - it should still be nice and pink inside.
1 Heat the oil in a large pan and add the ginger, garlic, chilli and lemongrass. Cook over a low heat until softened.
2 Add the stock and splash in the Thai fish sauce, soy sauce and lime juice. Bring to the boil, then turn down the heat and simmer for 10 minutes. Add the spring onions and cook for a further 3 minutes.
3 Add the fish with the coriander and simmer for 2 minutes or until the fish is cooked. Taste, season with salt and pepper and add more fish sauce or soy sauce if you like - it should be quite punchy! Ladle into warm bowls and serve.
Copyright Nick Nairn 2002
Salmon Recipe No 3
Lemon Butter Baked Salmon, Tagliatelle and Parsley
Nick Nairn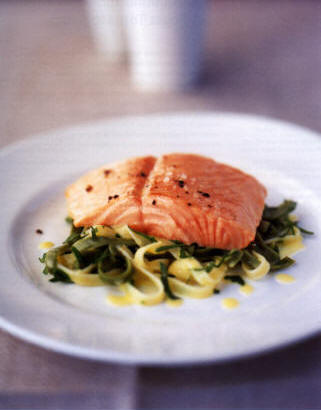 Preparation time 25 minutes
Serves 4
50g (2oz) butter
finely grated rind and juice of 1 lemon
freshly ground sea salt and freshly ground black pepper
4 x 175g (6oz) salmon fillets, skinned
350g (12oz) dried tagliatelle
4 tablespoons chopped fresh parsley
This dish is so simple yet so tasty. If you've got time, you could use home-made pasta here; if not, dried thin tagliatelle or linguine will do a fabulous job. What make this dish so good are the salmon juices, which mingle with the butter and lemon in the oven, so when you're pouring them over the pasta, use a spatula to scrape out every last drop.
1 Preheat the oven to 200°C/400°F/Gas Mark 6.
2 Melt the butter in a small roasting tin and add the lemon rind and juice. Season with plenty of salt and pepper.
3 Lay the salmon fillets in the roasting tin and turn them around in the lemony butter, ending up skinned-side down. Place in the oven for 7-8 minutes until cooked through but still moist inside. To test whether the salmon is done, give the fattest part a gentle squeeze and it should give slightly - if it's still wobbly, pop it back into the oven for another couple of minutes. If it feels solid, it's overcooked.
4 Meanwhile, throw the pasta into a large pan of boiling salted water and cook according to the packet instructions until al dente. Take the salmon out of the roasting tin and place on a warmed plate. Drain the pasta, mix with the lemony buttery juices collected in the salmon roasting tin and add the parsley. Divide the parsley between four warmed plates. Set the baked salmon fillet on top and tuck in!
Copyright Nick Nairn 2002
Salmon Recipe No 4
Seared Salmon with Hot Potato and Tomato Salad
Nick Nairn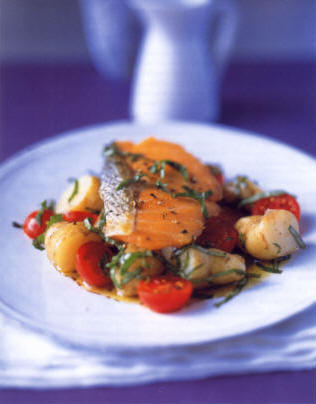 Preparation time 25 minutes
Serves 4
400g (14oz) salad potatoes ( such as Anya or Charlotte)
1 garlic clove, crushed
4 tablespoons extra virgin olive oil
1 tablespoon balsamic vinegar
freshly ground sea salt and freshly ground black pepper
350g (12oz0 cherry tomatoes, halved
25g (1oz) fresh basil leaves, roughly chopped
1 tablespoon sunflower oil
4x 115g (4oz) salmon escalopes (see page 10)
juice of ½ lemon
25g (1oz) Parmesan cheese shavings
I discovered how good this combination is quite accidentally when making supper at home one evening. The potatoes absorb the juices from the tomatoes, olive oil and balsamic vinegar, and provide the perfect background to a nice slice of seared salmon. I'm convinced many of the best ideas and combinations in cooking come about by accident rather than design.
1 Cook the potatoes in a pan of salted boiling water for about 20 minutes until just tender.
2 Meanwhile, mix the garlic, olive oil, balsamic vinegar and seasoning together in a mixing bowl. Add the tomatoes and basil and mix well.
3 When the potatoes are cooked, drain and cut in half and add to the tomato mix, tossing well to coat.
4 Heat the sunflower oil in a hot frying pan, add the salmon escalopes and fry for 2 minutes on one side only. Turn on to a plate, fried-side up, and season with salt pepper and lemon juice.
5 Add the Parmesan to the potato and tomato salad mix and divide between 4 serving bowls. Place a salmon escalope on top of the salad and serve.
Copyright Nick Nairn 2002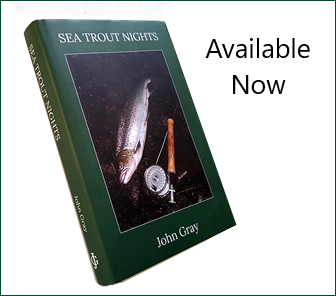 Many more great salmon recipes can be found in Nick Nairn's book "Top 100 Salmon Recipes" - Salmon recipes to suit all tastes, from one of Scotland's top chefs, renowned for his enthusiasm for fresh ingredients and inventive cooking. Written with clear step-by-step instructions, each recipe is simple to prepare and uses readily available ingredients.
Salmon Recipes
The recipes illustrated above are just four of the one hundred inventive salmon recipes in Nick's book. Other original recipes include "Orange and Coriander Marinated Salmon", "Hot-smoked Salmon Chowder", "Smoked salmon, Cream Cheese and Black Pepper roulades", "Salmon, Lemon and Saffron Soup", "Char-grilled Salmon Steaks, Asparagus and Poached Egg", "Smoked Salmon Eggs Benedict", "Salmon Sashimi", "Salmon Laska", "Cajun Spiced Salmon with Cucumber Salad", "Seared Salmon Nicoise", "Salmon and Mango Salsa", "Salmon Satay", "Salmon Pilaff with Saffron, Raisins and Pine Nuts", "Oatmeal-crusted Salmon with Mustard Sauce" and "Hot and Sour Salmon"
see also
"Nick Nairn Cook School Cookbook"
by Nick Nairn
One of Nick's more recent books with recipes from his successful and popular Cook School.
Cooking Perfect Salmon by Nick Nairn
Quick and easy
Preparation time 5-10 minutes
Serves 4
4 x 140g (5oz) salmon fillets or steaks
freshly ground sea salt and freshly ground black pepper
a squeeze of lemon juice
One of the greatest attractions of salmon is how well it adapts to different cooking methods. Whether steamed, poached, grilled, baked, fried, smoked or eaten raw as sachimi, each method produces different results in terms of texture and taste.
Whichever method you choose, it is vital not to overcook it. Really, it comes down to personal preference, but I believe that salmon should be served the same way as steak: medium rare. In practice, this means that the salmon should still be pink inside when it is served. To test, give it a gentle press or squeeze. Perfectly cooked salmon will give slightly, but not too much; if it's wobbly or jelly-like, then it's undercooked. Salmon which is firm to the touch is definitely overcooked and you'll find eating it akin to chewing on cotton wool.
Baking Preheat the oven to 200°C/400°F/Gas Mark 6. Dot the fillets with butter or drizzle with olive oil, season and place them on a greased baking tray. Put them in the oven for 7-8 minutes.
Char-grilling Using a ribbed cast-iron griddle pan is the easiest way to recreate the charred smoky flavour of the barbecue. To prevent the salmon sticking to the pan, make sure you oil the salmon, not the pan and don't be tempted to fiddle with the fillets while they're cooking. To form the characteristic "stripes", cook for two to three minutes on one side, then rotate the fish through 90° and cook for a further two minutes. Repeat on the other side. Season and serve.
Grilling Preheat the grill to the highest setting. Line the grill pan with foil, dot the salmon with butter or drizzle with olive oil and grill for two to three minutes on each side. Season and serve.
Pan-frying/searing Heat a non-stick frying pan until very hot, then add a little sunflower oil. For thin cuts, fry the fillets for 2-3 minutes on each side, to get a caramelized crust; for thicker cuts, reduce to a medium heat once the salmon has been added, then cook for 5-7 minutes on one side and a further 2 minutes on the other side. Season and serve.
Poaching Fill a wide frying pan with water, just deep enough to cover the fillets. Once the water is barely simmering, poach the fish for about 5 minutes, until opaque and just set. Using flavoured stock or even some lemon juice adds an extra dimension to the taste. For cold-poached salmon, slip the salmon into the simmering water, remove from the heat and leave to cool. The salmon will poach slowly in the cooling water. Season and serve.
Steaming This is the healthiest way to cook salmon. Throw some aromatic herbs, say tarragon or thyme into the base of a steamer, add water and bring to the boil. Place the salmon, lightly oiled, into the steamer basket, put on the lid and steam for 5-8 minutes, making sure the steamer doesn't boil dry. Season and serve.
Copyright Nick Nairn 2002
More Recipes for Cooking Salmon
A selection of varied recipes for cooking tasty salmon fish dishes
Visit Nick Nairn's excellent website at http://www.nairns.co.uk for details of his popular restaurant and cookery school and much more.
New Salmon Recipe Website
To view a new website presenting a varied selection of healthy and tasty salmon recipes, clearly explained and simply cooked using the best of fresh ingredients, see:
Quick Product Links
Our Needle Tubes and boxed selections of trout, sea trout and salmon flies are available in our online fly shop with free UK delivery on all orders over £50.
All online payments are processed by the trusted Worldpay payment system, the safest way to shop on the internet. You can be sure that your personal and credit card details will remain strictly confidential and secure. We normally dispatch all orders within 24 hours of receipt of your order, by first class post within the UK (which often means next day delivery for orders placed early in the day) and by airmail to international destinations.