Scottish Salmon Flies
Traditional Scottish Salmon Fly Selection
From Fulling Mill
A boxed selection of Twenty Scottish Salmon Flies tied on high quality Fulling Mill double hooks and presented in a durable and practical aluminium fly box. Each Traditional Salmon Fly selection has been chosen to give a good range of patterns in terms of colour and style, in the most practical sizes of 10 and 8, for use throughout late spring, summer and autumn.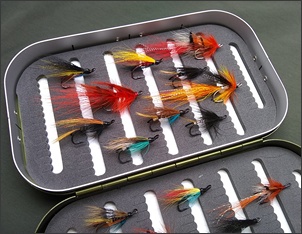 Boxed Selection of 20 Traditional Salmon Flies
in aluminium Fly Box
Price £59.99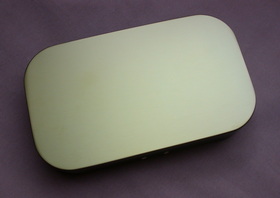 Available online in all major currencies.
Free worldwide delivery
This boxed selection of Salmon Flies, in sizes 11, 9 and 8, is a blend of the old and the new in Scottish salmon fly fishing. Old favourites like the Hairy Mary, General Practitioner, Blue Charm, Green Highlander, Thunder & Lightning, Stoat's Tail and Munro's Killer claim their well deserved place in the fly box alongside the new breed of modern shrimp patterns like the Cascade and Ally's Shrimp, which have proven so effective in recent seasons.
Each Salmon Fly selection offers practical variety for late Spring, Summer and Autumn salmon fishing. The smaller, darker patterns will, in general, be of most use in low, clear or warm water conditions while the larger, brighter patterns will come into their own in high, cold or coloured water. Now available in our ONLINE FLY SHOP
Note: Patterns included in the selection may vary slightly from those shown, depending on availability.
The Traditional Patterns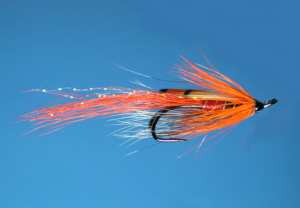 Ally's Shrimp
The original and now renowned pattern devised by Ally Gowans. This is one of the most popular and effective of all salmon flies in use today on Scottish rivers. Worth a try in a wide range of river conditions and at any time of year. Supplied in sizes 8 and 10.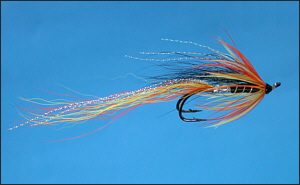 Cascade Shrimp
The Cascade Shrimp is another of Ally Gowans's creations. It is a great allrounder and has almost surpassed Ally's Shrimp in popularity. This version has a silver rear body. Supplied in sizes 8 and 10.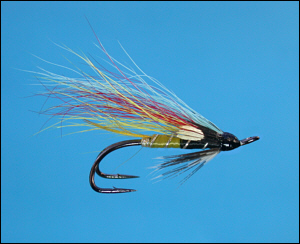 Jock Scott
The most famous of all salmon flies, created in 1845 by Jock Scott, (born in 1817 at Brankholme) who, for twenty five years, served as Fisherman to Lord John Scott of Kirkbank on Tweed. A successful fly, not only in Scotland but also in Nova Scotia and New Brunswick in Canada, in Spain, Iceland, Finland and Norway. Indeed it was on a voyage to Norway that the first Jock Scott was tied. Sir Edward Grey, in "Fly Fishing", said of the Jock Scott, "the best all round fly, excellent for all seasons, weathers and waters in Great Britain, and to be used of all sizes. I believe the Jock Scott to be the best blend of colour that has ever been invented for a salmon fly." High praise indeed. Supplied in sizes 8 and 10.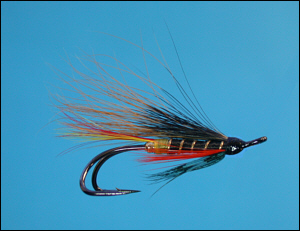 Thunder and Lightning
Another of the most famous of all Traditional Scottish salmon flies. A dark toned fly suitable for use in a variety of river conditions. Supplied in sizes 8 and 10.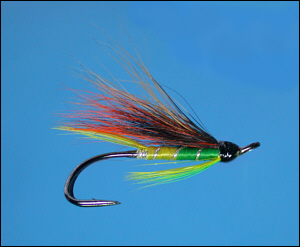 Green Highlander
The green and yellow colouring of this traditional salmon pattern provide a bit of variety, well suited to late Spring fishing. This pattern will show up well in coloured water. Supplied in sizes 8 and 10.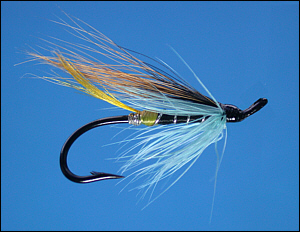 Blue Charm
The blue hackle and brown wing provide yet another colour option, well suited to a variety of water conditions but more subtle than some of the brighter patterns. A good general summer pattern. Supplied in sizes 8 and 10.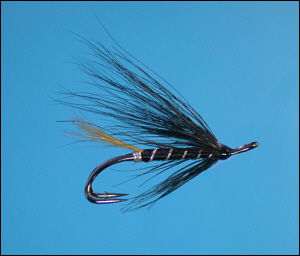 Stoat's tail
A great salmon fly for late spring and summer fishing on floating line. Supplied in sizes 9 and 10.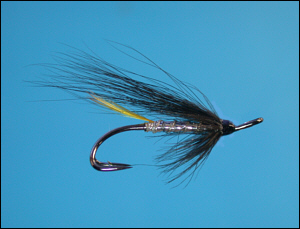 Silver Stoat
Good for salmon in early season in cold clear water. Also a great sea trout fly. Supplied in sizes 8 and 10.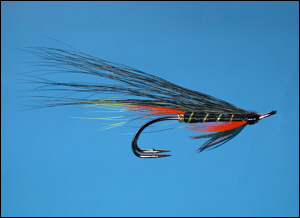 Munro's Killer
Originating on the Spey - an enormously successful fly in a variety of conditions. Supplied in sizes 8 and 10.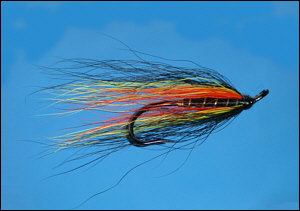 Willie Gunn
Excellent general all rounder. Now a well established favourite. Supplied in sizes 8 and 10.
Note: Patterns included in the selection may vary slightly from those shown, depending on availability.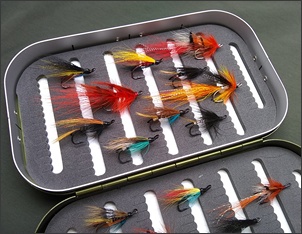 More from Grays of Kilsyth
Illustrated below are some of the needle tubes and tube flies; trout, salmon and sea trout flies; spinheads; fly tying accessories, some of them unique and available online only from Grays of Kilsyth, e.g. our ultra-slim stainless steel fly tying Needle Tubes and Needle Tube Flies.
Gray's Needle Tubes

Fine stainless steel fly tying tubes in a range of lengths with diameters as low as 1.5 mm

HMH Tube Fly Adaptor

The superb HMH Tube Fly Adapter is now available in our online shop at £24.95 with four free sample Needle Tubes.

Sea Trout Needle Tube Flies

A boxed selection of one dozen sea trout needle tube flies in 25mm and 35 mm lengths.

Scottish Shrimp Salmon Tube Flies

A selection of Scottish Shrimp fly patterns dressed on 10mm Grays Needle Tubes.

Spey Shrimp Needle Tube Flies

One dozen Spey Shrimp Tube flies dress on 1.8mm diameter needle tubes.

Minitube Salmon Flies

A selection of twelve salmon minitube flies dressed on 10mm long needle tubes.

Wee Monkey Needle Tube Flies

A selection of 12 Wee Monkey Salmon Tube Flies in a range of popular colours.

Irish Shrimp Salmon Tube Flies

A boxed selection of Irish Shrimp salmon patterns dressed on Gras Needle Tubes.

Blackback Salmon Needle Tubes

A box of ten Blackback Salmon needle tube flies

Ally's Shrimps and Cascades

A selection of twenty Ally's Shrimps and Cascade Salmon Doubles

Sea Trout Fly Singles

A box of forty sea trout single flies in sizes 10 and 8.

Traditional Scottish Doubles

A boxed selection of twenty famous traditional salmon doubles from Fulling Mill.

Trout Wet Flies

A boxed selection of fifty famous traditional Scottish wet flies for loch and river.

Trout Lures

A selection of trout lures and streamers, popular for rainbow trout fisheries.

Trout Nymphs

A boxed selection of forty trout nymphs for stillwater or stream.

Trout Dry Flies

A box of forty famous British Dry Flies in a variety of sizes.

Tube Fly Extension Tubing

PVC and silicone tube fly extension tubing an a range of diameters and colours.

Spinheads

The Spinhead is an entirely new spinning device, a kind of fly spoon, designed and developed by Grays of Kilsyth primarily for the salmon fly fisherman who prefers the fly rod to the spinning rod.

All of the above needle tubes, flies, fly tying and related accessories are available from Grays of Kilsyth online with free worldwide shipping on orders over £25
Quick Product Links
Our Needle Tubes and boxed selections of trout, sea trout and salmon flies are available in our online fly shop with free worldwide delivery on all orders over £25.
All online payments are processed by the trusted Worldpay payment system, the safest way to shop on the internet. You can be sure that your personal and credit card details will remain strictly confidential and secure. We normally dispatch all orders within 24 hours of receipt of your order, by first class post within the UK (which often means next day delivery for orders placed early in the day) and by airmail to international destinations.